A year in the life of an Apprentice Forest Operative
8th Feb 2023
To celebrate #NationalApprenticeshipWeek we hear from George Green, Apprentice Forest Operative, who joined us in February 2022 through our first forestry apprenticeship scheme. A year on, George shares what inspired him to pursue a career in the forestry sector, what skills he has learnt and what it's like to work in the National Forest.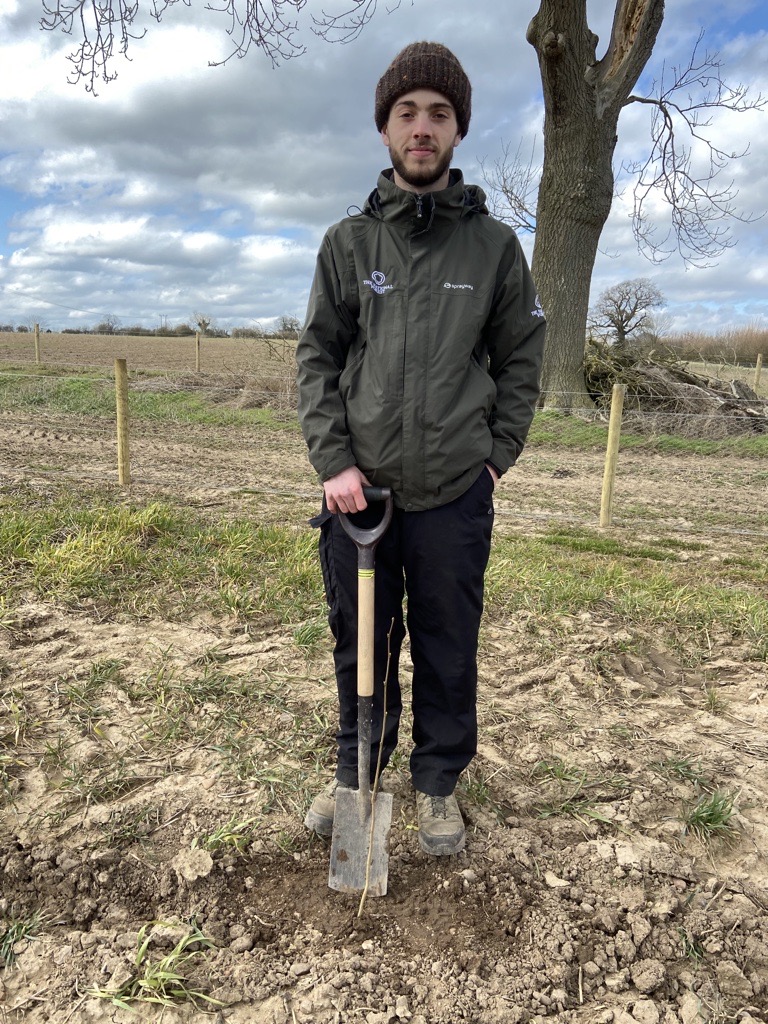 I've always loved being outdoors, taking in the scenery and the fresh air of the local countryside, but it wasn't until March 2020 that I found myself appreciating the small, seemingly insignificant features of my walks and time outside.
As the first COVID-19 lockdown commenced most people were confined to their homes and an hour's window for exercise, so going for a walk or a bike ride became what I did every day for about 3 months; armed with a book by Tristan Gooley, 'The Walker's Guide to Outdoor Clues and Signs' my fascination for the outdoors had officially begun.
I generally became fixated on trees, mainly as I had easy access to them, and it was where I could put my knowledge into action. Another thing that came to mind during this time was the environment, climate change and how delicate it is, which further fueled my motivation to pursue a career in the sector.
After searching for a while, I was delighted to come across an apprenticeship position for a Forest Operative at the National Forest Company, a familiar name as a local to Bradgate Park and Beacon Hill, I eagerly applied and was quick to accept when I was offered the role to help create and maintain the National Forest.
By the end of the first week, I was already learning a lot about land and forest management, going out and visiting parts of the Forest, some parts I've seen before, a lot I never would have discovered if not for taking on the role. This helped me get a feel for the Forest, to see what types of work goes into establishing and protecting woodland and the local wildlife. After a couple of weeks settling into the company, I began my college course and started building my practical and theoretical forestry knowledge base at the same time.
This is exactly what I expected the role to be, from tree identification, to learning about what legislation is used in forestry. I have already learnt a lot in such a small period and have already begun annoying my girlfriend every time we walk, trying to ID each unfamiliar tree we come across.
With a local forestry contractor, I have also been learning about the everyday tasks that go into forest creation, and the maintenance tasks that change throughout the seasons, and have developed a great appreciation for the National Forest's landscape and villages I get to work in. I've got to plant trees on new woodland creation sites that I'll watch mature in years to come. I've also been strimming and mowing all around the forest helping to keep it accessible and tidy and had the opportunity to see what goes into conservation and preservation of ancient woodlands too.
During my first year at the National Forest Company, time has flown, and I've learnt loads about the forestry industry and I'm glad I decided to pursue my goal of working outdoors and doing something I am passionate about in an environment focused setting. There is lots more to learn and I look forward to developing my knowledge base and skill set further.
We have been pleased to support George through our first forestry apprenticeship scheme and we would like to support more individuals in future to help create the next generation of foresters and support the forestry sector to protect our woodlands for future generations to enjoy. We have been working with SMB College Group in setting up our apprentice opportunity. If you have been inspired by this blog to start a career in the sector visit their website for more information.
Give to the Forest
Give monthly or one-off donation?