Mayor of Toyota City plants tree in the National Forest to mark 25-year partnership with Derbyshire
10th Feb 2023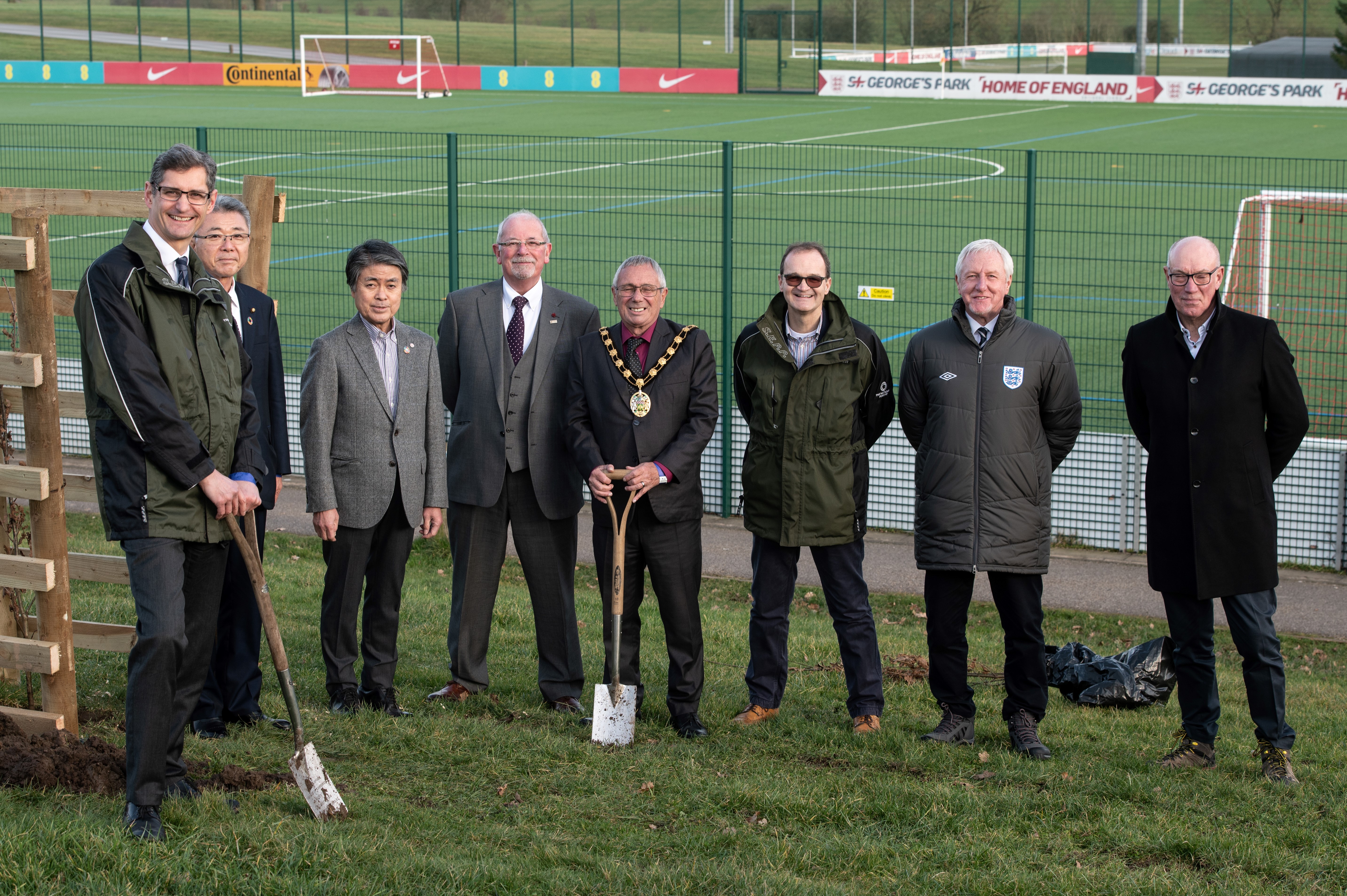 Last week we were delighted to welcome Mayor Toshihiko Ota, Chairman of Toyota City Council, Kiyoshi Itagaki and their delegation to the National Forest to mark 25 years of friendship between Toyota City and Derbyshire.  
The event was hosted by the National Forest Company and South Derbyshire District Council at St George's Park in Needwood, Staffordshire.  
During the visit Mayor Ota planted five oak trees to celebrate 25 years since the start of the partnership at one of the sites funded by our Changing Landscapes grant scheme.  
The planting will form part of a new area of mixed woodland and parkland at the site where more than 3,000 trees will be planted and contribute to more than 100,000 trees being planted across the National Forest this year through the CLS scheme.  
John Everitt, Chief Executive of the National Forest Company, said: "Planting a tree here in the National Forest symbolises the strength of the friendship between Toyota City and Derbyshire, representing our shared ambitions for a low carbon and sustainable future."  
Councillor Kevin Richards, South Derbyshire District Council's Leader, said: "The friendship between Derbyshire and Toyota City has led to unique opportunities for pupils, students, athletes, artists and businesses to take part in exchanges over the last 25 years. 
"This event is the first of several planned to mark this friendship over the coming 12 months." 
South Derbyshire District Council and the NFC are two partners in the Toyota City Partnership Board, which was established in 2018, facilitated by Derbyshire County Council, to develop the friendship with Toyota City by bringing together key economic and cultural stakeholders, alongside the Derbyshire local authorities.  
South Derbyshire District Council will host a range of other activity to celebrate the partnership, including student exchanges, planting of cherry trees in school grounds and awareness raising activities at public events.  
To find out more about the Toyota City partnership visit Derbyshire County Council's website. If you're a landowner in the National Forest and would like to find out more about our grant opportunities, including our Changing Landscapes Scheme, visit our grants page.  
Give to the Forest
Give monthly or one-off donation?