Timber Festival 2021 Announces an Illuminating Line-up of Talks, Workshops and Spoken Word
18th Jan 2021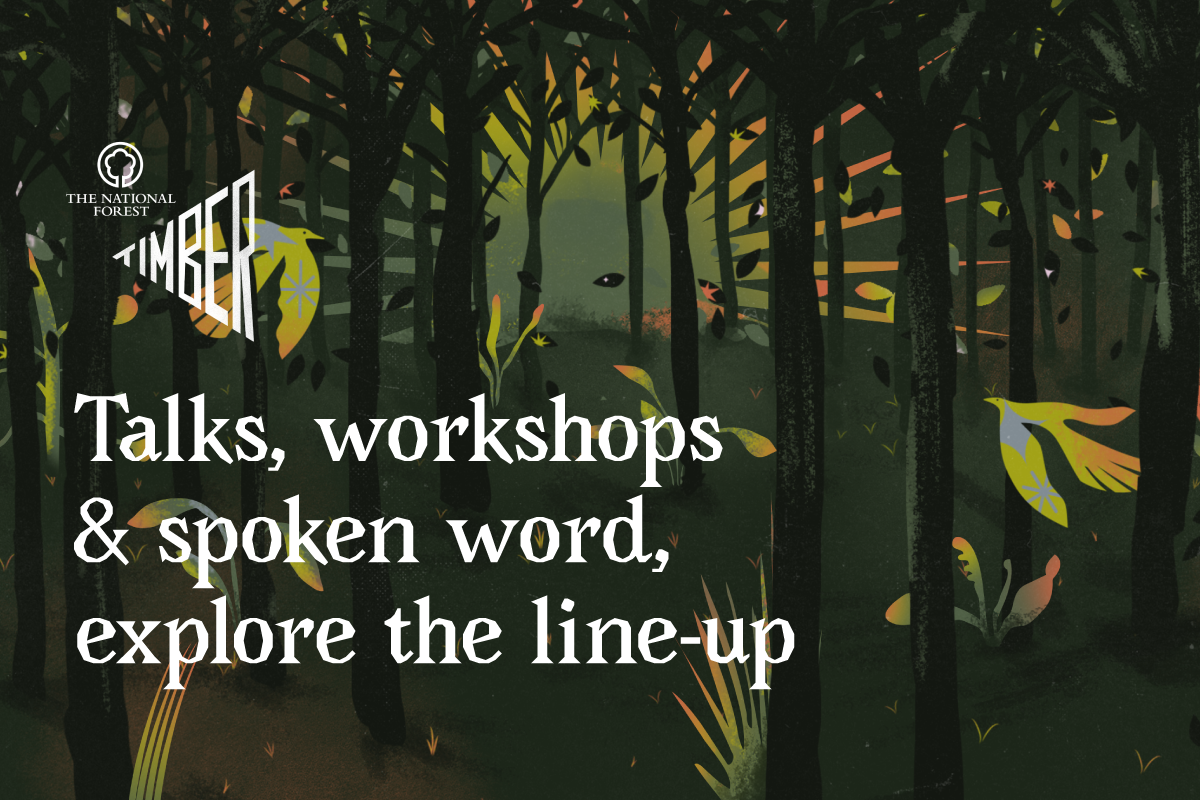 We're counting down the days to better times spent among the trees at Timber Festival 2021! This year will see the festival return for its third year at the stunning Feanedock woodland set in the heart of the National Forest.
Created in collaboration with the award-winning festival producers Wild Rumpus, Timber is a celebration of trees and forests, in a place where trees have led the transformation of the once scarred mining landscape. Step into a weekend of illuminating talks, workshops, and spoken word as you recharge under Timbers spell.
This year will see musicians, Gruff Rhys, The Unthanks, Snapped Ankles, Erland Cooper, Field Music, and Sam Lee, as well as a rousing range of podcasters and wordsmiths such as, Timber patrons Stuart Maconie and Elizabeth Alker, who invite audiences to a live version of their new podcast series, 'Notable'. Whilst BBC Radio 1's Geoff Bird will be encouraging audiences to re-examine their relationship with the natural world with a live version of Wilderness Tracks with Poet Laureate Simon Armitage and beloved Coronation Street star, Julie Hesmondhalgh.
At the forefront of this year's festival will be a programme of events to explore the impacts we have on the world and how we can tackle the climate crisis. MP, Caroline Lucas will deliver a rallying call to action as we try to build hope for a better future.
There will also be many thought-provoking readings from authors such as, Jini Reddy, who discusses belonging and otherness in a conversation about her new book Wanderland which was recently shortlisted for the Wainwright Prize, and environmental historian Jessica J Lee reads from her genre-shattering book Two Trees Make a Forest which examines the relationship between people and place.
We will also be joined by a host of cultural dreamers, poets, and performance artists perform across the weekend including celebrated poet Paul Farley who reads from his latest avian-themed collection The Mizzy that was shortlisted for the Costa Poetry Award and the T.S.Eliot Prize. Pascale Petit the winner of The Poet Laureate's inaugural Laurel Prize for ecopoetry reads from Mama Amazonica at the festival alongside the yet to be announced Ginkgo Prize 2021 winner who will also perform.
Timber will also invite you to find escapism and the opportunity to stop, pause, and restore your connection with the natural world. Forest Bathing (Shirin Yoku) is a truly immersive experience and is a wonderful way to boost your health and wellbeing by connecting with trees and nature. Fully trained Forest Bathing guides will support you to experience a very slow, gentle walk where mindfulness invitations are offered.
You can also get involved with a host of workshops and activities from the Woodland Trust, The Walking Library for Forest Walks, Transforming the Trent Valley, Heart of the Forest Cooperative, and more, with woodlands and Forests celebrated in all their glory across the three-day Festival.
We are confident that we will be able to bring the event this year, and that it will be something to look forward to. Because of the size of the location and scale of the audience, plans can be adapted to run the event with social distancing should that be required, and with all COVID safety measures in place.  
See the full programme of events and get your tickets for Timber 2021 today! 
Give to the Forest
Give monthly or one-off donation?